Are you looking to add a beautiful finishing touch to your stationery, packaging or gifts? Hand made wax seals created with love and care make the perfect addition in completing that invitation suite, package or gift. 
Through the practice of sustainability, I dry my floral petals and give it a new life by adding it to my wax seals. If you love flowers, these are a perfect representation of who you are and are simply beautiful.
Pricing is as follows:
White/solid colours: starts at $2.25 each
Marbled (mix of white & another in house colour): $ 2.62 each
Dried floral petals: $ 0.50 extra
Gold foil: $0.75 extra
Dried floral petals & gold foil: $1.00 extra
Turnaround time: 1 week + processing time
More questions? Contact me!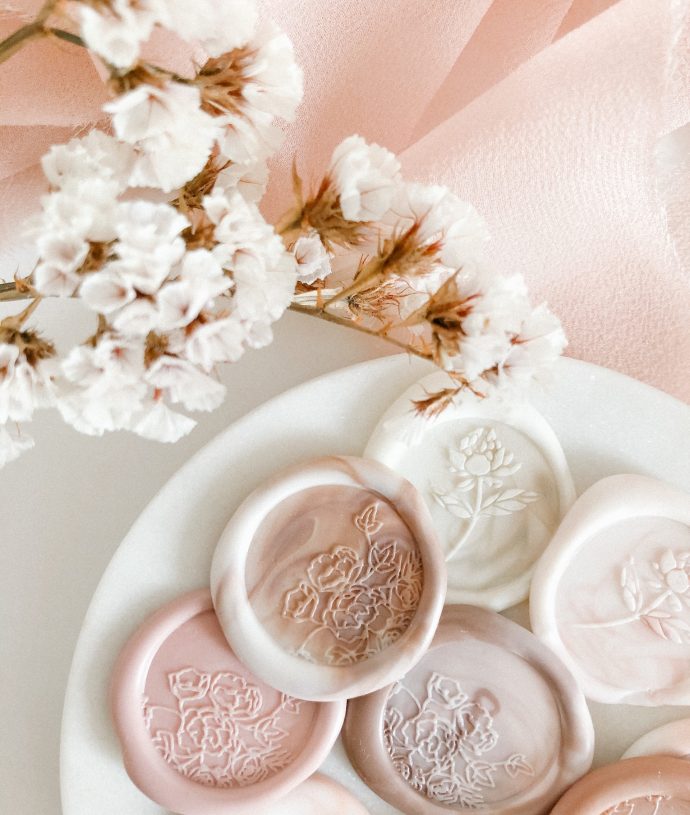 Wax seals are created with a waxy material, that is melted easily under a heat source (ie. candle) or a glue gun. 
Once melted, a stamp will be placed on the wax to create an impression. This is the end result that you see in all of my photos here.
No one stamp is exactly the same. Each one is intentionally created to be one of a kind and adds that special touch to each piece. 
These are the most gorgeous wax seals. So much pretty on one little seal that just makes my heart so happy.
I wanted to add an extra "oomph" to my stationery and there are just perfect. They come already with a strong self-adhesive and all you have to do it peel and stick! No mess and no other tools required for this kinda pretty.
I've always had a fascination for wax seals and am so thrilled I found yours. They are the most delicate and pretty of ones I've seen. I love and respect that you are practicing sustainability by using dried florals to add even MORE beauty to your wax seals. I am such a fan of your work.
I knew I had to reach out to Cecile when I was working on a project that would be perfect for her hand made wax seals. She was able to customize the seals to match perfectly with theme of our event. The floral petals, the gold foil pieces and the lovely organic edge of her seals made my project complete. Thank you for creating such whimsical and lovely beauty!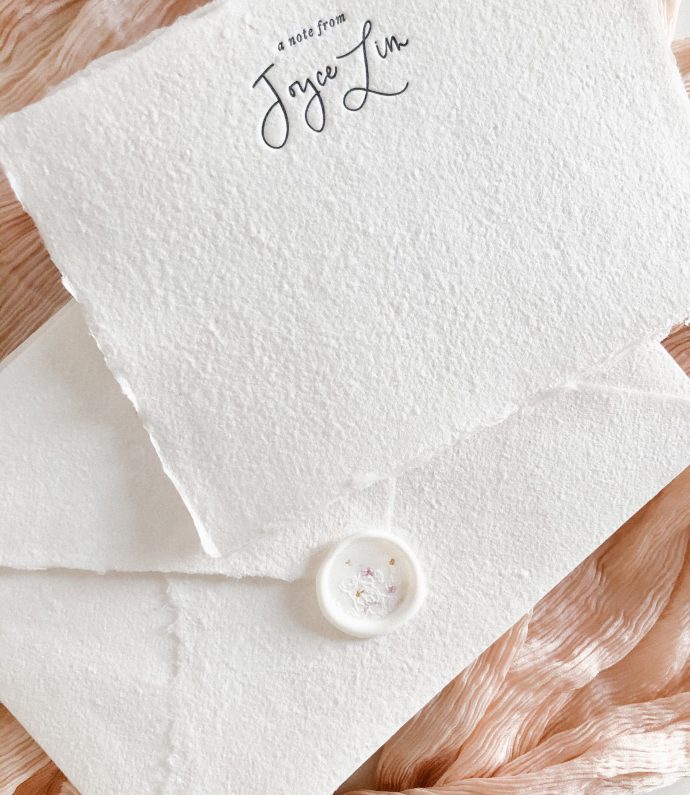 Wax seal on
Personalized Stationery