Gingham Easter Egg Decorating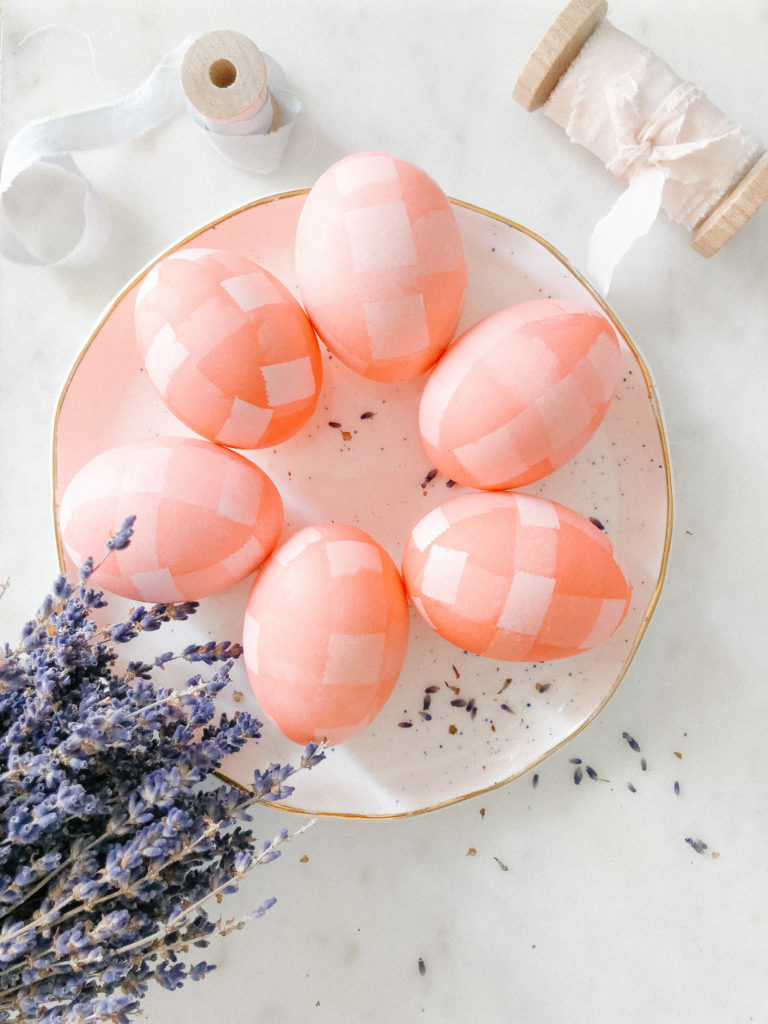 Easter egg decorating is one of the fun things I love doing and now that our little toddler is almost 3, he most definitely will be hands-on with this project! Easter is a time of renewal and it truly brings on Spring time vibes for me. It also reminds me that I am turning another year older, since my birthday always happen to land before or after Easter.
A couple years ago, I decorated eggs with a gingham pattern and decided to try it again; this time with a curious toddler! Remember to be patient and have fun!
Supplies You Will Need:
White Eggs OR Plastic Eggs
Boiling water
Food colouring: choose your fave colour(s)
White vinegar
Paper towel
Tape (thin tape or washi tape)
Scissors
Slotted spoon
Steps:
BOIL EGGS. If you are using real eggs, hard boil them for about 10-12 minutes. Once done, allow them to cool completely. If you are using plastic eggs, you can skip this step.
BOIL WATER. Next, boil 1 cup of water for each colour you'd like to dye the eggs. I chose to do 2 colours, so I boiled 2 cups of water. Once boiled, pour your water into a bowl that will not stain (ie. metal or glass bowl).
MIX YOUR DYE. Next, add 2 tsp. of vinegar and 10-12 drops of food colouring in. I chose to do one bowl of red and one bowl of orange (yellow & red makes orange).
DYE YOUR EGGS. Place your eggs 1 at a time in your dye mixture and let it sit for about 10 seconds. This will produce a light pink and a light peach/orange pastel colour. Remove your egg with a slotted spoon and allow excess dye to drip off as needed and place on your paper towel to dry it completely.
APPLY TAPE. Cut your tape into squares and apply one at a time in a straight line. I created 4 lines with 3 squares on each to create the gingham pattern on my eggs. Press the tape down to ensure there are no bubbles or creases.
DYE YOUR EGGS AGAIN. Place your egg back into the dye and leave it longer, about 20 seconds this time. Remove with slotted spoon and dry completely with paper towel. Do not remove the tape.
CUT MORE TAPE. Cut another 4 strips of tape and cover the same squares you just made securely.
CUT MORE TAPE, last time I promise! Apply this around the middle of the egg and make sure it's nicely secure.
LAST DYE. Place your egg back in the dye and leave it for 30 seconds now. Remove as you have done above.
REMOVE THE TAPE and reveal the gingham pattern on your eggs!
How did your eggs turn out? Share your photos and tag me on IG: @cecile.lau.calligraphy; I'd love to see how they turned out!